HUIZENPRIJZEN FRANKRIJK
Een gedetailleerd kijkje in de Franse huizenmarkt.
Deze site geeft u een overzicht van nagenoeg alle onroerend goed transacties in Frankrijk sinds 2014.
Verkoopprijzen, Verkoopdata, Woonoppervlak, Prijs per m², Grondoppervlak, Kadastergegevens, etc.
De officiële verkoopinformatie van het Franse kadaster
Om de Franse huizenmarkt transparanter te maken heeft de Franse overheid de informatie van huizen verkopen en andere onroerend goed transacties vrijgegeven . De data wordt beschikbaar gesteld door ETALAB. Un département de la direction interministérielle du numérique (DINUM).
Onze website biedt u gratis toegang tot deze informatie die u kan helpen bij het waarderen / taxeren van huizen en appartementen in Frankrijk. Informatie die vroeger alleen beschikbaar was bij de Franse notarissen en makelaars.
Ideaal wanneer u zich goed wilt oriënteren tijdens een aan- of verkoopproces van Frans onroerend goed.
U krijgt op een eenvoudige manier inzicht in de huizen en appartementen die in een bepaald gebied verkocht zijn.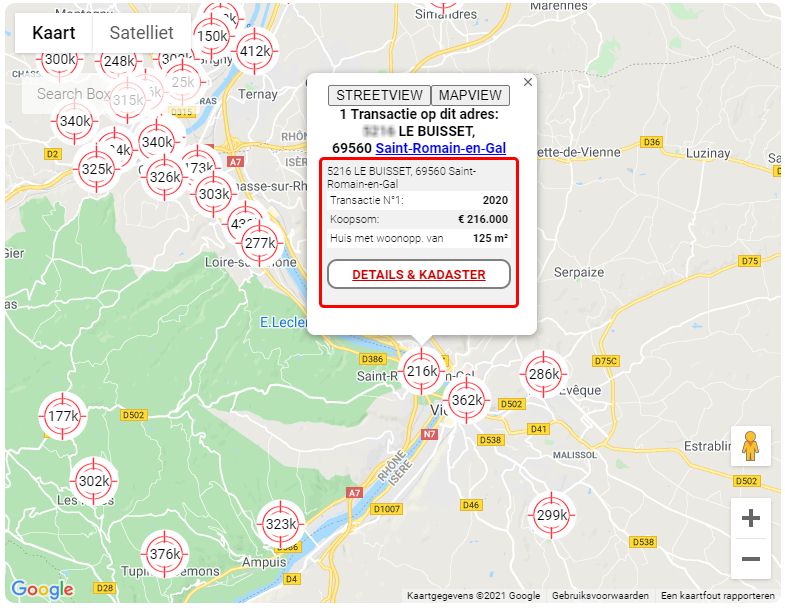 HOE HET WERKT
Kies het soort onroerend goed dat u wilt bekijken.
Zoek stad of het dorp met behulp van de Search Box en zoom verder naar het gewenste detailniveau.
Klik op het lokatie punt om de verkoop informatie te krijgen over verkochte huizen of appartementen op een bepaald adres.
Klik op de streetview tab om een indruk van het huis te krijgen, door de straat te lopen en de verkoopprijzen in de straat te bekijken.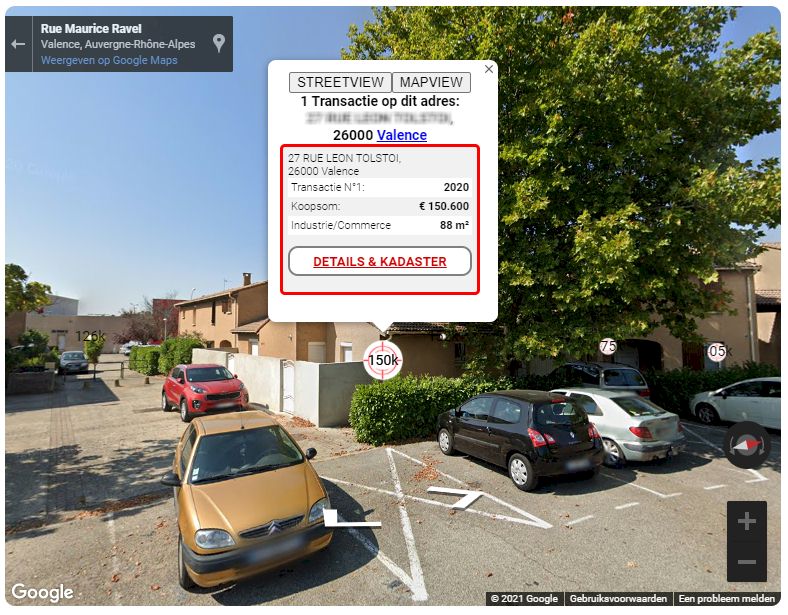 Wanneer u op DETAILS & KADASTER klikt, krijgt u informatie over de verkoopdatum, de verkoopprijs, het woonoppervlak en het aantal vertrekken.
Ook krijgt u informatie over het grondoppervlak en alle perceelnummers die met de transactie gemoeid zijn.
U kunt vervolgens op de perceelnummers klikken om de kadasterkaart te bekijken.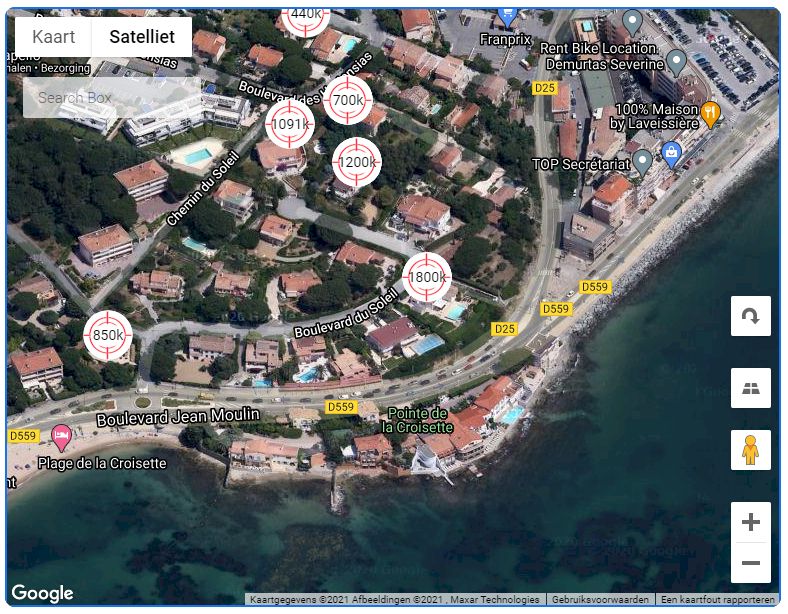 Wij wensen u veel plezier met het verkennen van de verkoopprijzen van de Franse onroerend goed markt.
Heeft u vragen, opmerkingen of tips dan horen wij dat graag op info@huizenprijzenfrankrijk.nl